A fresh peak in modern travel
Digital acceleration has defined most of our lives since early 2020. The pandemic's seismic, transformative shift completely stalled the travel industry, before forcing it into reinvention, compelling a handful of forward-thinking resorts and hotels to strike a balance between high-touch and high-tech experiences. 
Furthermore, the pervasive influence of social media, particularly short-form video platforms like Reels, Stories, and TikTok, has given rise to the era of the "Instagrammable" hotel. While guests want to switch off, recharge, and connect with themselves and their loved ones, they increasingly seek a dual experience, making their holidays a visual diary, chronicling their journeys in real-time through platforms and screens. This phenomenon is particularly prominent among Millennials and Gen Z, whose significant spending power is influenced by their digital exposure and consumption. This new wave of travellers browse, consume, spend, socialise and learn aided by technology. 
Intelligent intention
While the digital revolution plays an integral role in modern travel, adapting to the audience's interests must be thoughtfully integrated with a clear sense of intentionality. Without that intelligence, brands risk being gimmicky. Luxury hoteliers have the enviable task of balancing how they understand and anticipate guests' desires, while considering various dimensions — nature, experience, fine detail, sophistication, understatement, overstatement, sustainability and catering to personal technology preferences — to co-exist.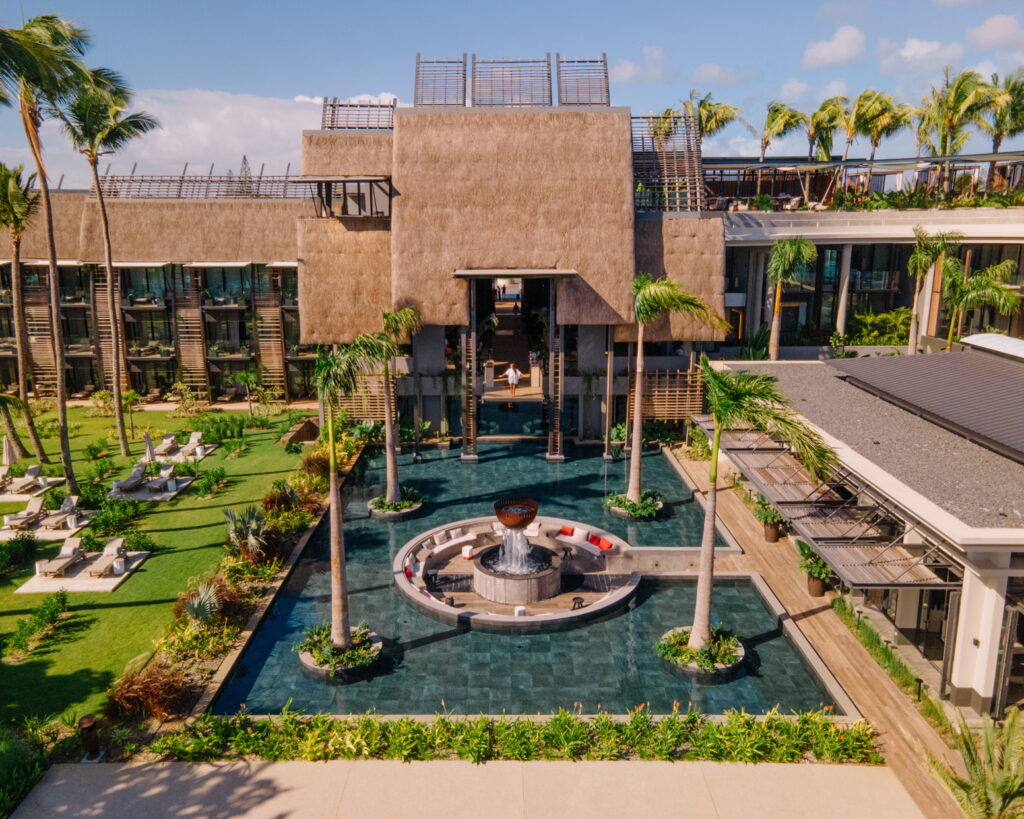 Leading the charge
On the edge of Mauritius' most vibrant town, LUX* Grande Baie has taken this leap of faith into the future, effortlessly combining the allure of a beach holiday with urban hotelier genius. It's unexpected from an island property. The resort offers both high-touch and high-tech experiences, making an immediate impression with its triple vaulted ceiling upon arrival, setting the stage for a truly extraordinary stay. Guests can straddle the spectrum of white sandy beach walks and waterskiing off a jetty to savouring cold-pressed coffee and patisserie at Maison LUX*, to haute cuisine, a nightclub, and a spa that would rival any on the media's annual Hotlist winners.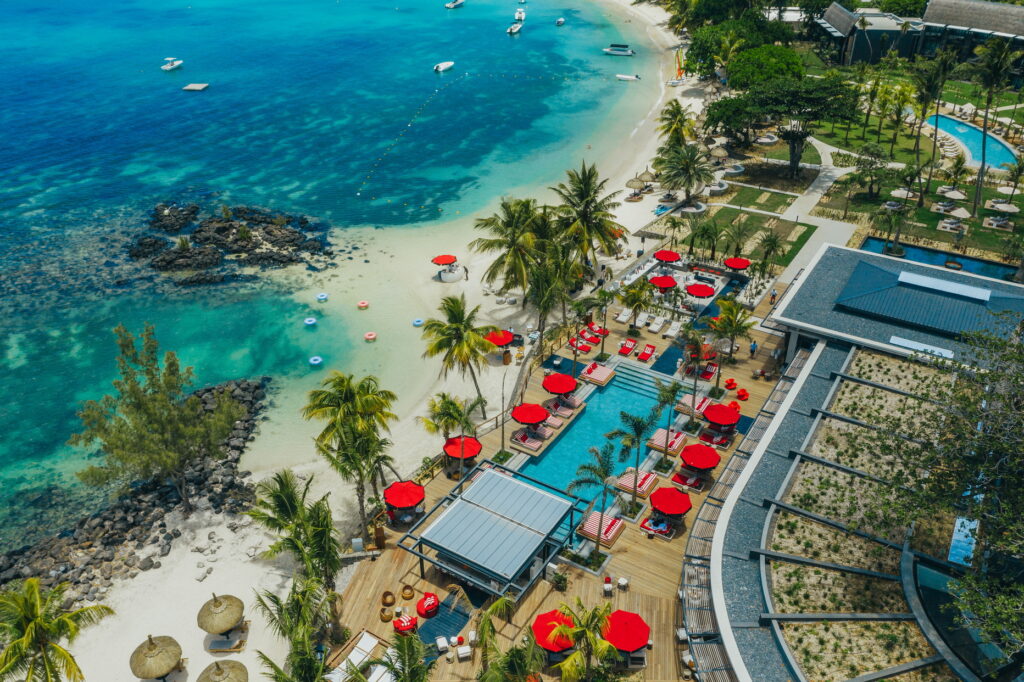 Smart segmentation
LUX* Resorts astutely positioned LUX* Grande Baie as a beacon of distinction in its Indian Ocean portfolio, setting it apart from its sister properties, LUX* Grande Gaube's luxurious homeliness, and the family favourite LUX* Belle Mare, reopening in October 2023. 

As a five-star resort, it exudes a vibrant ambience, perfectly complementing the nearby buzz of shops and nightclubs. The resort's own Beach Rouge poolside restaurant and bar, along with the AiKisu Asian restaurant, evoke an urban chic vibe reminiscent of a trendy Singaporean hotspot.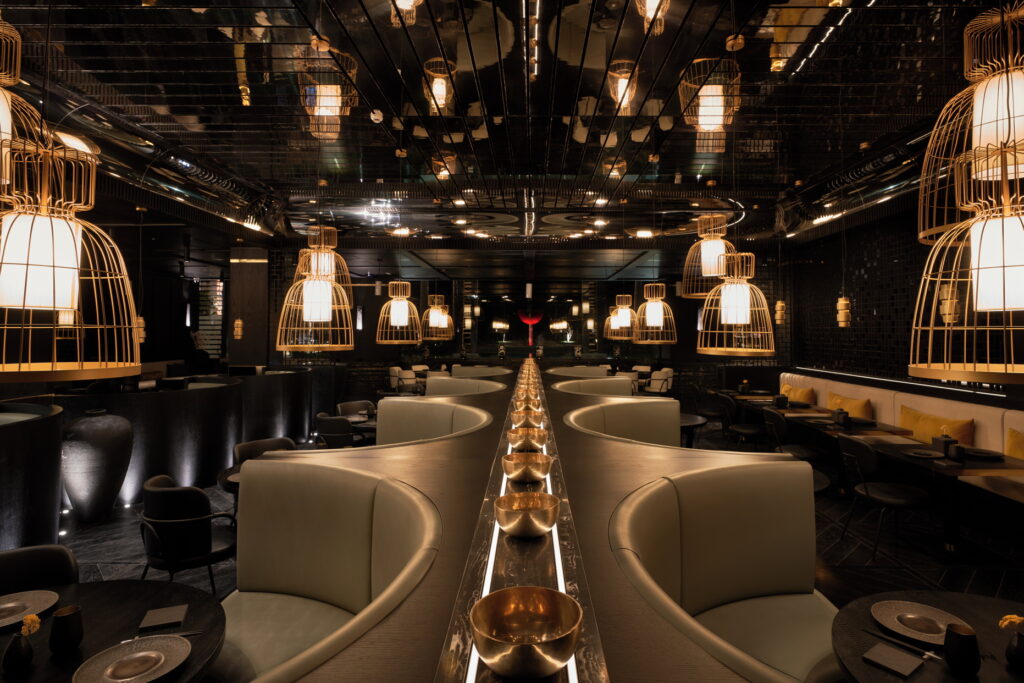 High style
LUX* Grande Baie embodies the essence of LUX* Resorts proposition, 'A Life Extraordinary' by effortlessly weaving together intimate, personal or experiential moments with flashes of modern innovation. The resort's exquisite design by Mauritian architect Jean Francois Adam, and interior maven Kelly Hoppen, injects a new palette of darker base colours, overlayed with lush tropical green, natural wood and linens. This is modern, dark, clean, simple but layered, Zen meets Armani – and a far cry from the typical dark wood Mauritian beams and cream palette that made the island a dream stopover in the last few decades.
Hoppen's illustrious history with the LUX* brand dates back a decade, when she collaborated on the transformation of the iconic LUX* Belle Mare.
Across 116 LUX* suites, villas and penthouses, she has artfully blended the island's natural elements with modern design, creating a space that exudes tranquility and sophistication. Luxurious textures and subtle tones complement the breathtaking sea views that greet guests at every turn, instilling a sense of serenity and connection with nature.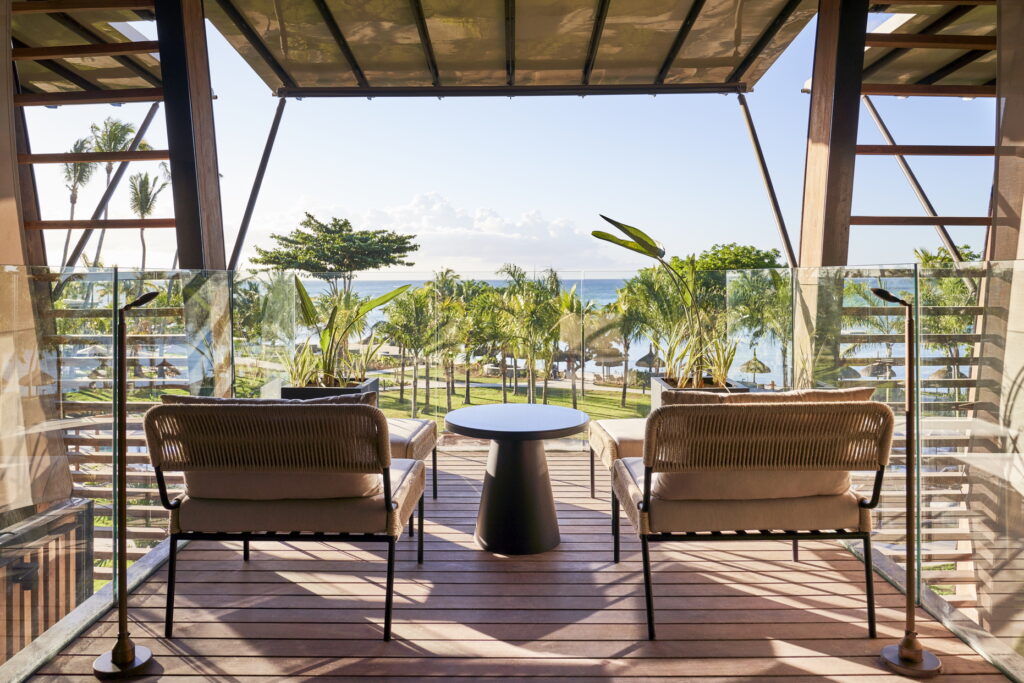 Gastronomy
Beach Rouge beach club and restaurant, Bisou rooftop for sunset aperitivo and tapas, or the glamorous AiKisu for Asian gastronomy, almost compete with each other for your attention, time and taste buds.
Beach Rouge is pure class with red and white-striped loungers, bar service, swishing palms and unlimited ocean views claiming the laid-back, uber-cool prize. The 1190 square-metre rooftop uber restaurant, Bisou, is built for Instagram, a sanctuary of idle cabanas and palm leaves, and an arched rim-flow pool that gazes longingly at the ocean.
AiKisu restaurant stands out as a scene stealer. This avant-garde eatery embraces a fusion of Japanese and Peruvian cuisines, delighting gourmands with innovative dishes that play with texture and taste. From the delicate artistry of sushi to the fiery flavours of ceviche, each plate is a masterpiece, a reflection of the restaurant's commitment to serving gastronomy that knows no bounds.
The weave of wellbeing
The LUX*Me Spa is a journey, as opposed to a traditional spa. For me, the hydrothermal bath journey to harness the healing power of the water element, was unlike anything I had experienced before, taking a journey from a Turkish hammam with heated pool, massaging ice rocks, walking the multi-sensory water path – rainfall, mist, side jets, waterfall, bucket – and Kneipp walk consisting of hot and cold therapeutic foot baths, concluding with an aromatherapy steam and sauna.
Guests can take private and small group sessions across strength and conditioning, HIIT or boxing, join running workshops, and 350m2 of versatile training space with two 30-metre Olympic standard running tracks.
The cycle studio offers riders both instructor-led and virtual on-demand cycling classes, while the Niyama Studio delivers a minimalist and chic mind and body studio for private and small group classes for mat-based pilates, yoga, aerial yoga, meditation, restorative stretching, and release work.
If that's not blowing blown your hair back, there's a hair salon and barber, a bridal studio, and six treatment rooms with high-tech equipment for better spine alignment, sinus pressure comfort, and specialised beds for Thai and acupressure therapies.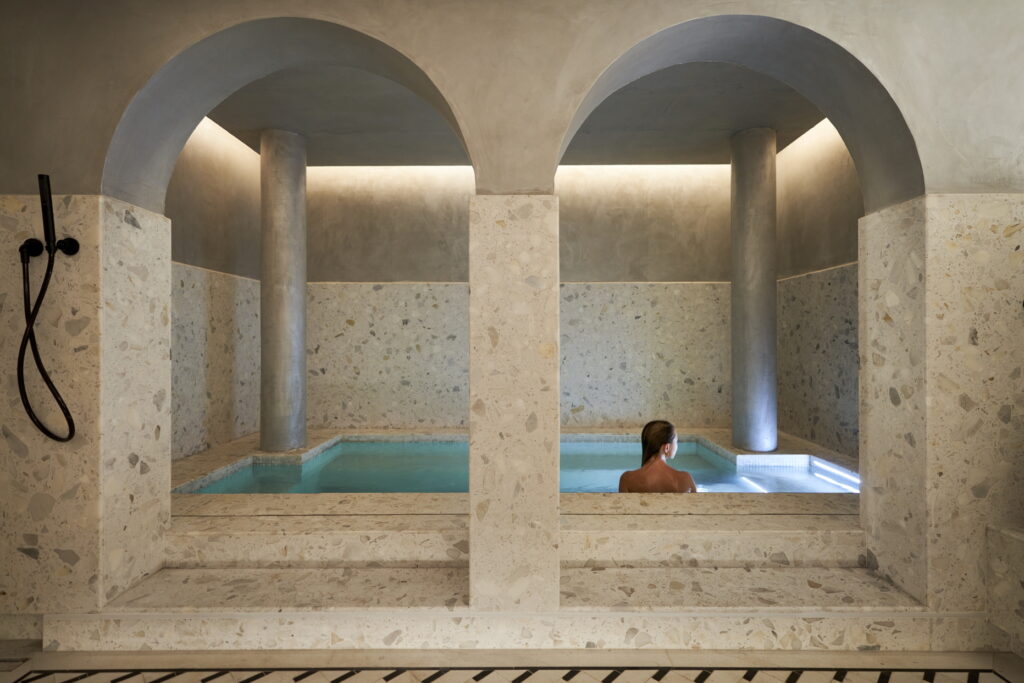 Transformation with vision
LUX Resorts' remarkable success can be attributed to the visionary leadership of CEO Paul Jones, who fosters a culture of innovation and excellence. I have visited all the properties and this pulses through the spirit of the people and properties. The brand's expansion in the Indian Ocean, China, and Europe demonstrates its commitment to embracing the changing travel landscape while staying true to its proposition.
This is a competitive marketplace with the leaders jostling for position. Modern, high-tech, high-touch travel is a tightrope walk for brands to carefully and intelligently choose what should be included in their 'hospitality stack'.
LUX* Grande Baie plays a senior role within the Indian Ocean portfolio, standing out on its own promontory, bravely leading the pack in Mauritius with something that sets the bar for its competitors to chase. Bravo.